Halloween-themed costume canoe race set for Ten Mile Creek near Clarksville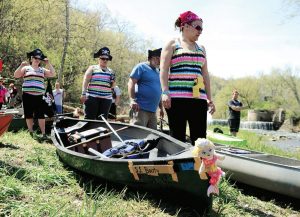 Pirates, monsters and ghosts will invade Ten Mile Creek next week during a Halloween-themed boat race near Clarksville.
Residents from both Washington and Greene counties will wear costumes during the first-ever fall canoe and kayak race Oct. 8, put on by the Marianna Outdoorsmen Association in partnership with East Bethlehem Township.
"We're really pleased that we're able to partner with another municipality and expand what we do," said Jason White, president of the Outdoorsmen Association. "We're excited to get the first year under our belts."
White said his nonprofit organization holds a canoe "and anything else that floats" race every spring in at a different spot on the Ten Mile Creek. He said that over the 10 years they've been hosting it, it's become the largest boat race in the state. During this past spring's race, the group had 209 boats participate, he said.
"The spring race has a costume contest too, but we'll really be pushing for that for the fall race since it's geared to the Halloween theme," White said
White said the association decided to start a race in the fall after seeing the success of the spring race.
"More or less, the spring race opens up the boating season, and this one will be closing it out, in a way," he said.
The race will begin at 11 a.m. on the creek in Clarksville, last for about two miles and end at Greene Cove Yacht Club. About 30 people have registered so far and White said he expects about 30 to 50 boats to participate. People will need to bring their own boats.
Those interested can register at www.mariannaoutdoors.com or in person from 6 to 8 p.m. Oct. 6 at Greene Cove Yacht Club. Registration for event is $25 for members of the Outdoors Association or $30 for nonmembers. Registration the day of the event will cost an additional $5.
The money will go toward improvements to the area along Ten Mile Creek in East Bethlehem.
"The township is trying to invest in recreation to try to reinvent themselves," White said. "We're not the industrial belt that we used to be, so when people see the success of places like Ohiopyle, they're a little more open to change. And everyone likes to have a good time."
The race will be followed by a festival with vendors, music and food during the announcement of the winners.
"Hopefully, we'll have good weather and people will be outside all day," White said. "We look at every outlet we can to get people outside to breathe the fresh air."
Fall is the perfect time for fishing on the Mon River
We've all seen images of grizzled fly fisherman standing in a misty morning river or gap-toothed kids on docks holding up their catch of the day. But fishing is not just a way to while away one's retirement or pass a childhood afternoon — it's the third most popular outdoor recreation activity in the U.S., right behind biking and running. It's also big business in Western Pennsylvania.
Talk to a local fisherman and it's easy to see why. Chris Toth has been fishing the tributaries of the Monongahela River every day for close to 30 years and calls these waters the "hidden jewel of Western Pennsylvania." The avid angler stops his truck wherever he sees a creek from the road, wading in for a spell on his way to and from work as a coal miner. He says fishing doesn't have to be hard and it doesn't have to be expensive — he builds his own rods and keeps artificial lures in his truck. That way, he can fish whenever the mood strikes.
"I can stand in ankle deep water and catch quality fish," he says, mentioning a recently nabbed nine-pound Walleye. "People think they have to travel to Erie or go east to get great fishing in Pennsylvania, but it is right here in their backyard."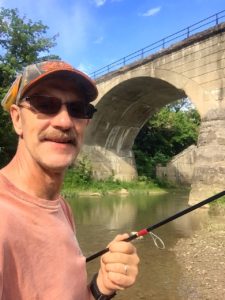 Toth credits the improved water quality of the Mon. The settling ponds and water treatment used by area mines — along with the development of modern sewage treatment plants in riverside communities — has resulted in clean water that supports a wide variety of fish. As the water has improved, more people are fishing, swimming and boating.
Rick Spear of the Department of Environmental Protection (DEP) has also witnessed the change. A marine biologist with the DEP for 14 years, Spear is a Fish and Mussel expert. He explains that the Clean Water Act of 1972 got the ball rolling, "making communities and individuals responsible for what got discharged into waterways." In the 1970s, the Mon River could only support three species of fish: bluegill, catfish, and carp.
"The Mon now has upwards of 50 species, and they are flourishing," he adds. "Kayak and canoe rentals in Pittsburgh have grown exponentially as the water has become cleaner and more pleasant to fish and boat in."
Existing marinas and newly constructed launches make it easy to put a boat into the Mon or Ten Mile Creek, but the area still lacks an outfitter to rent kayaks and canoes or sell fishing gear. Spear believes there is a market for that sort of business.
People think they have to travel to Erie or go east to get great fishing in Pennsylvania, but it is right here in their backyard.
One group helping to grow the sector is the Marianna Outdoorsmen's Association (MOA) in Washington County. The Association sponsors events such as the "Fall Costume Canoe Race" (happening October 8 in Clarksville on Ten Mile Creek). Their annual Spring Canoe Race launched in 2007 with 17 boats. In 2016, 209 boats competed and over 3000 people attended. For 2017, the event has been expanded to two days and dubbed "Outdoor Fest." It will feature musical entertainment and vendors in addition to the Saturday race. Proceeds and membership fees will support the Association's educational work, its trout stocking programs and fishing events for veterans, such as one on October 15 with Project Healing Waters.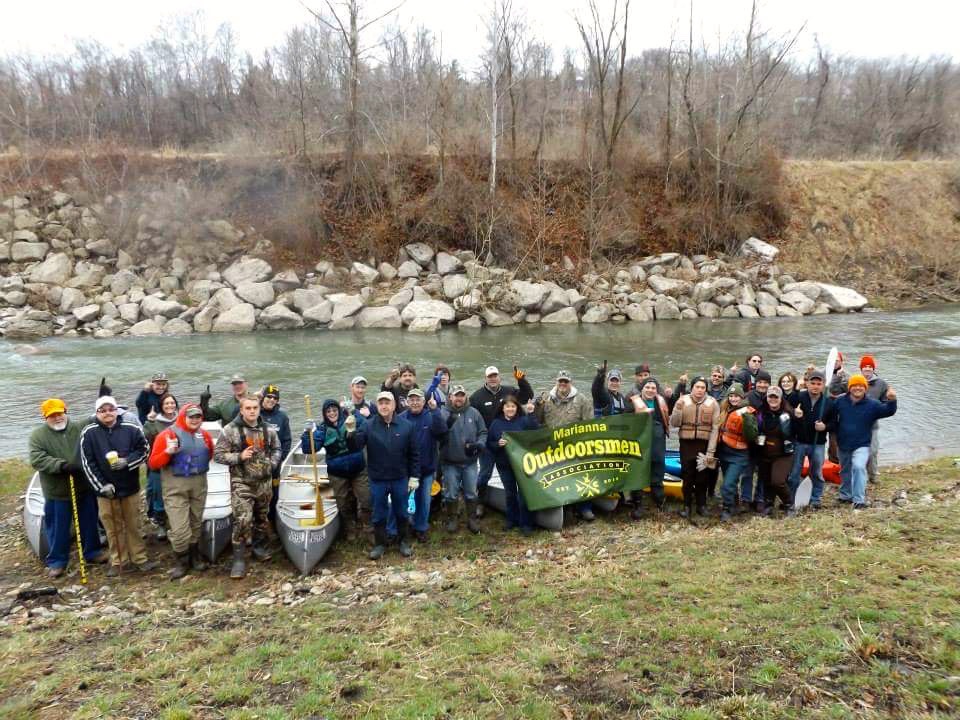 Started in 2006 by Jason White and Josh Stepp, MOA promotes fishing as both outdoor recreation and an educational opportunity. An avid fisherman since childhood, White says their work in Washington and Greene counties maximizes the region's major asset — the Mon River — and improves the life of area residents.
"Fishing is a great activity for kids," he says. "It gets them into the outdoors to learn about nature and the environment in a positive and fun way. A kid that looks forward to going fishing after school with friends is less likely to turn to drugs and other negative pursuits."
MOA partners with county and state agencies, local Chambers of Commerce, and organizations like the Mon River Town Coalition to raise awareness of the area's assets and get courses into local school curricula. Working with MOA, Beth Center School District in Fredericktown has successfully instituted the Fish Commission's recreational courses into the school day.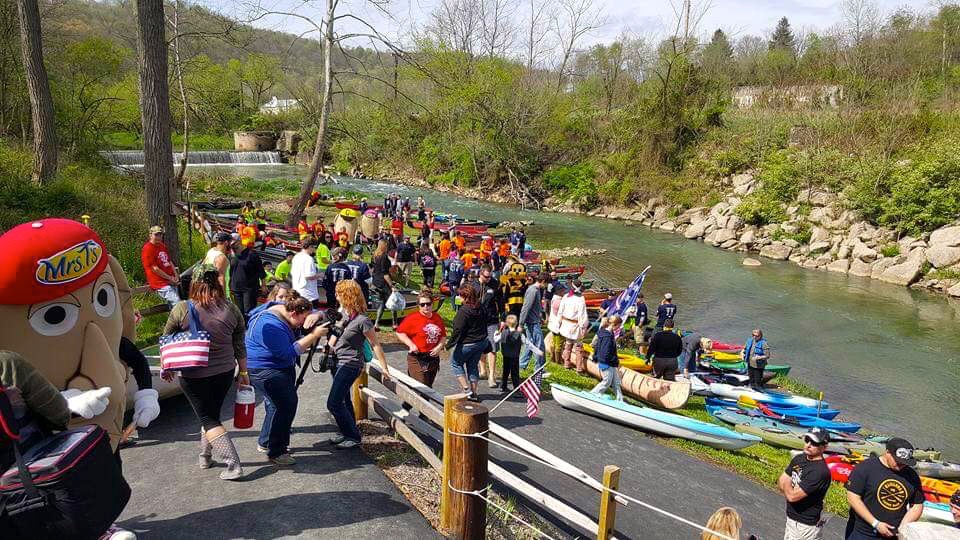 It's working: The sport's popularity is increasing along with the variety of fish that are biting.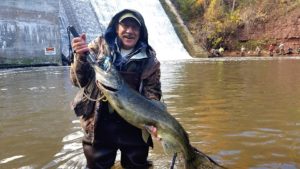 "Fishing is like returning to the days of being a hunter/gatherer," explains Pittsburgh attorney Bob Koehler, who stayed away from fishing the Mon when it yielded only carp and catfish. But when the Bass Master Classic came to Pittsburgh in 2005, he knew the river had come back to life. He got his fishing gear out of storage.
According to Toth, now is the perfect season to drop a line.
"September and October are a great time to be out on the water," he says. "The fish are fattening up for winter and eager to bite. Everyone's preparing for hunting season so I often have the creek to myself. It's just great fishing. Not to mention, it's beautiful."
So if you're driving through Western PA, watching the leaves turn, and you see a pickup pulled over on the shoulder by a close-running creek, you may have just found Chris Toth at one of his secret spots. Grab a pole and join him.
####
Outdoors group pumps up annual Marianna Canoe Race
Pittsburgh Tribune Review
By Mary Pickels
April 18, 2015
The Ninth Annual Marianna Canoe Race and Anything That Floats will be held Saturday at Ten Mile Creek in the Washington County borough. The daylong fundraiser, concluding with a post-race party, is a popular event sponsored by the Marianna Outdoorsmen Association. The event, which last year drew 169 watercraft of various descriptions, helps to raise money to fund stocking trout.
This year, 200 boats are expected to participate, with 4,000 people expected to attend the race. "Our trout stocking was April 12. We had over 100 people show up," said Ed Thomas, association senior director. "We made a commitment to ourselves to stock $10,000 worth of fish every year," Thomas said. The fish are off-loaded into buckets that children then carry to the stream, said board member Bud Cook of West Pike Run Township.
Children get interested in fishing early, and invested in keeping the area free of trash and damage, Cook added. During a water cleanup event on April 4, representatives from California University of Pennsylvania, Chevron, Project Healing Waters Fly Fishing, Western PA Wounded Warriors and residents of Marianna, West Beth Township and West Pike Run Township collected more than 150 bags of garbage, 30 tires and five television sets.
Flowers and trees were planted at the creek access. Saturday's race, which covers about 3.2 miles, began nine years ago with fewer than 20 boats and no sponsors, Thomas said. The original five founders still are involved in the 501(c)(3) group, he said. The group has 41 members and 15 partnering local and national organizations, including Cal U and Beth Center School District, Cook said.
The group has expanded to include activities for local Wounded Warriors, including an event being planned for October. Members hope to acquire property for events including pheasant hunting, Thomas said. Other future project plans include a walking trail for handicapped visitors. Future events planned for this year include catfish stocking and derby, golf outing, stream bank cleanups and veteran fishing day. "Our goal is to put Marianna on the map again," Thomas said.
Born and raised in the community, he believes Marianna has the potential to become a tourism hotspot. The organization works with elected officials, Thomas said, but is not a political group. "We have support from every little town, every little organization just like us," he said. In years ahead, he said, the region's coal and coke oven history, along with more recreational water sports' access, could help it thrive again.
"I don't see any reason why, if we continue on our trail, that we cannot be a small Ohiopyle (State Park)," Thomas said. Pre-race sign-ups will be held from 6 to 9 p.m. Wednesday at the Marianna volunteer fire hall. Registration on Saturday will be from 7 to 10:30 a.m., with the canoe race starting at 11 a.m. Fee is $30 per person, with participants receiving a race T-shirt. Prizes will be awarded to first-, second- and third-place canoe and kayak, most creative boat and best team costumes.
Admission to the day's events is $7 for those age 11 and up. Barbecue and vendors will be available noon to 8 p.m., with bands scheduled to perform from 1 to 8 p.m. Thomas said the association keeps only $1 of the $7 admission fee; the rest is split among charitable organizations, including canoe race partners. Cornhole tournament will begin at 2 p.m. The entry fee is $10 per person.
Professional sports mascot appearances also are planned.
For more information, visit the Marianna Canoe Race or Marianna Outdoorsmen Association Facebook pages or call board president Jason White at 724-986-5708.
####
Marianna canoe race a big draw for the small town
Observer-Reporter
by George H. Block
May 3, 2014
There is one thing you will never see and that is this old man in a canoe. I should reiterate and say a canoe in water. I have been on Lake Erie in a 12-foot boat but that was back in my younger days. But me climbing in a canoe? No way.
Watching someone in a canoe, I marvel at the smooth and graceful way to travel. Why bring this up?
I spent time at the annual Marianna Canoe Race. The course was simple. Go from the low wall dam to the edge of Maianna to the second bridge downstream and do it in the shortest time.
The way Ten Mile Creek twists and turns, this is probably a couple of miles. Mixed in with the canoes were a few kayaks and homemade floats. There was even a couple styrofoam boxes large enough to hold two people.
The last time I saw them, they were grounded on a small island. It was easy to see that they were not in the best shape for going from Point A to Point B but they did float.
For those who are new to the area, Marianna is a small coal mining town close to the Greene County line. Like many of these small towns, it lacks both a gas station and a store. Residents travel almost 10 miles just for gas. Thinking about it, there are many other small towns that lack both of those conveniences. Residents had better gas up and keep their vehicle at a quarter of a tank all the time.
The canoe race is sponsored by the Marianna Outdoorsmen Association. The race not only draws attention to Marianna but it raises funds for the fire department and for trout stocking in the creek. Some of the funds raised will go to a disaster fund.
When you look at the problems faced by these small towns – and there are many – Marianna has an advantage. The creek as a big plus.
The association does a good job of stocking the creek with trout and one has to wonder just how good the fishing would be if the Pennsylvania Fish and Boat Commission also stocked trout at this location.
The first person to bring the race to my attention was Ed Thomas. Ed said they charge $7 to get in at the finish line, where the food and music take over. Because of this, they should have good records of the visitors. Ed said 3,500 attended this year.
There were anglers fishing upstream from the area where the canoes went on their merry way. There was a team of three that won the race. After all, how can you have a race and not have a winner?
Just like last year, the O'Brien family that reside near Glyde, crossed the finish line first. I met John and Pat O'Brien a few years ago. They do know how to work as a team.
I realize I am speaking for myself but it seems a slow trout season. Of course, the weather wasn't so cooperative. It won't be long until we are trolling Hot n Tots, hoping to hook a walleye in either Pymatuning Reservoir or Lake Arthur. The Hot n Tot will run about 10-foot deep just above the bottom.
The other hot lure is hardly for the purist. It's a jig and night crawler. John Dino and I have used both methods and caught fish with both. Use the wind to your advantage. Troll against the wind and jig our way with the wind doing the work.
####
Canoe race helps fund trout for Ten Mile Creek
Post Gazette
Dave Zuchowski
March 20, 2014
Nine years ago, Jason White was looking for a way to raise money to stock trout in Ten Mile Creek in Washington County, so he borrowed a fundraising idea used by other organizations — a raffle drawing based on the Pennsylvania Lottery.
"The idea proved not to be worth the effort we put into it," said Mr. White, 26, of Clarksville, who abandoned the raffle drawing after a one-time try.
The heavy spring flow of water in the creek gave him another idea — a canoe race, with trophies given to the canoeists who reached the finish line in the fastest time.
The first year, the race drew 17 canoes but no sponsors. However, it still raised $700, which translated into 300 10-inch trout purchased from the Laurel Hill Trout Farm in Rockwood, Somerset County.
Now in its eighth year, the race has grown so much that the board members of the Marianna Outdoorsmen Association are hoping to stock $10,000 worth of 7- to 30-inch rainbow, brook, brown and Palomino trout in a 4-mile stretch of Ten Mile Creek near Marianna on April 5. The race will be held April 26.
"While we have kids participate in the race, they are especially excited about helping us stock the trout," Mr. White said. "On stocking days, we can have as many as 40 cars lined up full of people wanting to help out."
Over the years, the canoe race has evolved by adding kayaks and "anything that floats" to the fray, with prizes awarded for best decorated boat and team costumes. Spectators have seen themes including Hawaiian motifs, complete with grass skirts, an artificial palm at the bow and a toy hog roasting on a spit at the stern. Prizes include placards, gift cards and fishing gear and accessories.
"The race isn't really about prizes, it's about having fun," Mr. White said.
To enter the race, each participant must register and pay a $30 fee per person. Participants can use their own canoe, kayak or floating creation and the association is renting seven kayaks at a cost of $30 each. Each registrant will also get an official green and yellow Marianna Canoe Race T-shirt, Eagle Claw fishing supplies, stickers and writing pens. To register: 724-344-5153.
The race will begin at 11 a.m. April 26 at Main Street in Marianna. Two canoes will follow downstream one minute apart. Start times will be assigned according to the order in which the registrations come in. To determine the winners, each boat will be timed at the start and finish lines of the 3.2-mile course.
The end of the race doesn't signal the end of the event. On property at the finish line owned by Dale Wyels and Lee Pryor, four country and rock bands will provide live entertainment from noon to 8 p.m.
Mr. White's mother, Michelle, will head a crew of volunteer cooks selling food such as barbecued pork chops, sloppy joes, hamburgers, hot dogs, pepperoni rolls, pasta and macaroni salads, and baked beans.
"Everything is homemade," board member Sandy Thomas of Marianna said.
Those not participating in the race can enter the grounds for $7.
Board member Ed White of Marianna estimates that this year's race will cost about $19,000 for security, insurance, entertainment, T-shirts and giveaways, advertising and Froggy Radio, which will broadcast live at the starting line from 10 a.m. to noon.
"We have a wonderful board who've taken up the slack and are doing a lot of the work this year since I was injured last February on my job in the coal mines," Mr. White said. "And they all love the opportunity of being able to give area kids a chance to fish close to home."
"In the future, we'd like to offer scholarships to high school and college students and set up a disaster relief program. That's why we're always looking for support from sponsors to help us grow."